The Calling Is in the Body Celebrates Early HIV/AIDS Advocate Deidre Williams by AMY STUMPFL
AUG 4, 2022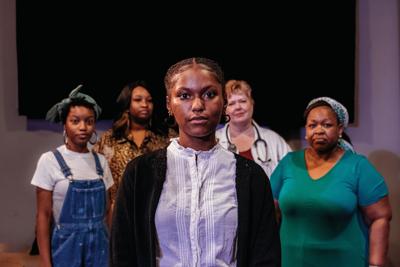 Whether it's through her work as a theater artist or as a public health professional, Cynthia C. Harris has always recognized the power of storytelling.
"As a child, I grew up listening to women share their stories in my mother's beauty shop," the Nashville native says. "Even then, I think I understood that it wasn't necessarily about the details of the story itself — it was the power of being in community together, of recognizing ourselves somewhere in the story."
Harris hopes audiences will find that moment of recognition with The Calling Is in the Body, which premieres this weekend at Actors Bridge Ensemble. Billed as a choreopoem, this new work tells the story of one of Harris' own mentors — Deidre Williams, a vibrant young Black woman who was an early advocate for people with HIV/AIDS in 1990s Nashville.
"Deidre was an incredible human being," says Harris, who received a Rural Performance/Production Lab fellowship from The Mississippi Center for Cultural Production to support the development of The Calling Is in the Body. "She spoke at a Red Cross Leadership Camp that I attended during high school, and I was immediately drawn to her. She was young, ambitious and full of energy. And then she tells us that she has HIV, and our jaws hit the floor. I mean, this is the early '90s, so there was a real stigma surrounding that whole subject. But she was so open and wise, and encouraging. I felt like she really saw me. This was in the days before social media and cellphones, and we eventually lost contact. But she had such a profound effect on my life. And as I started working on this piece, I discovered that she had a real impact on a lot of lives."
As with Harris' other original works — including Phrases of Womanhood and How to Catch a Flying Woman — The Calling Is in the Body blends storytelling and movement, much in the style of Ntozake Shange's groundbreaking for colored girls who have considered suicide / when the rainbow is enuf.
"My aunt gave me a copy of for colored girls when I was in fifth grade, and I think I've always gravitated to that type of work because it provides the most freedom to explore and really express what you're feeling."
In this case, Harris was particularly interested in exploring the idea of "how we navigate this life in our human bodies."

"I've always been fascinated by how we relate to our changing bodies," she says. "It doesn't necessarily have to be a serious illness or accident that changes the way we function or how we see ourselves. It could just be the process of aging — getting bigger, rounder, older. That can really change your sense of self, right? And yet all the things that were true about us before, are still true now.
"In talking to people about Deidre, so many spoke of her joy, her energy and the way she was able to encourage and support others, even when she was sick," Harris continues. "How did she do that? How does anyone make peace and learn to just be in their body, while acknowledging that they still deserve — and can create — goodness?"
Harris says she is delighted to explore such questions with the cast of The Calling Is in the Body, including Teacora Sherrill, Destinee Monét Johnson, Nicole Mason, Rachel Agee and Lisa Yolanda Treece.
"We have an incredibly talented cast — a few returning to the stage after years away and some recent graduates," Harris says. "I like my cast to reflect a diversity of bodies and hair textures. I like my heroes to be young and older. We're building something really beautiful, and these are the only humans for the job."
Likewise, Harris says Actors Bridge — under the leadership of producing artistic director Vali Forrister — is uniquely positioned to bring The Calling Is in the Body to life.
"For me, Vali Forrister simply is Actors Bridge," says Harris. "She's absolutely committed to lifting up women's voices, making space for others to grow and develop as artists. Vali's been there to support me every step of the way in this process, and I can't think of a better place to present this work that means so much to me."
Original post: https://www.nashvillescene.com/arts_culture/theater/i-the-calling-is-in-the-body-i-celebrates-early-hiv-aids-advocate-deidre-williams/article_a453561a-1287-11ed-bc94-2fdad1b69a2e.html